In today's world, a good-sounding space is more important than ever. Whether used for video calls and virtual meetings, in-person conversations, or just a pleasant space to be in, we can help transform any space to a peaceful place of clarity and well being.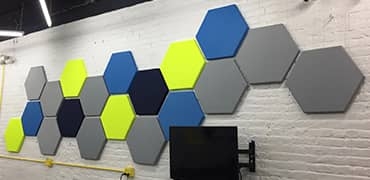 We Can Help!
Are unwanted echoes making your home office or business environment unpleasant? Are you experiencing poor call quality or excessive sound travel? Need to have a better sound experience on video calls from your home office? Does your recording studio or workstation need a better "sweet spot"? Need to enhance your experience of listening to music or watching movies? Our acoustic treatment solutions can help you optimize the sound quality of your space, no matter it's size or restrictions.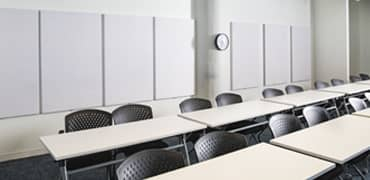 Our Sound Experts
Our sound experts provide professional acoustic solutions with great attention to detail and are available for no-obligation on-site acoustic guidance where they can experience your specific situation in person and provide you with a written custom solution that can fit any requirement and budget. Getting the acoustic environment of your premises right is one of the most important aspects of any space, whether it's a home office, music studio, recording workstation, home media room, restaurant or a busy office space. We guarantee our services will help you achieve better sound quality while saving you time and money. Contact us today at (877) 999-2201 to schedule your on-site acoustic consultation with one of our professional acoustics experts.
Acoustic Treatment Demonstration
In this video New York Soundproofing demonstrates the dramatic difference before - and after - installing our acoustic panels. This acoustic treatment project was at the Galaxy Visuals video studio - a state-of-the-art video studio in Brooklyn, NY.
The video room was turned from acoustically unusable to sounding exceptional!
When our clients moved into the space, there was so much echo they couldn't do any video shoots with decent sound, or even understand each other speak.
New York Soundproofing to the rescue! We installed acoustic panels that matched the space and could fit in an area that is outside of the camera frame for a fantastic result.
This is only one example of many where we transform an unusable space into a great-sounding room fit for recording, listening and more.
Contact us today to see how we can help transform your space!
(Also see Galaxy's client testimonial video below).