Home Office Acoustic Solutions
Working from home can present a whole range of distracting sounds, from noisy neighbors and traffic outside your windows to the sound of your children playing in the house, the acoustic challenges of working from home are endless. Even in a quiet environment, the sound quality of calls due to echo is often in need of treatment. We offer many acoustic solutions including free-standing acoustic partitions, custom size, shape, and color wall panels, noise-reducing door treatments and more. New York Soundproofing can help you to assess the most effective ways of treating your home office so that you can work in a peaceful, calm, and productive environment.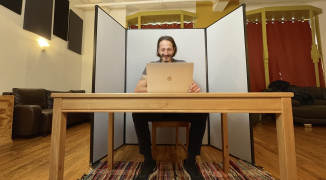 Folding Acoustic Partitions
Free-standing, folding acoustic partitions are an easy way to add an acoustic barrier to your workspace. These paritions reduce ambient noise and improve the sound quality of your work space, which will make your calls and video conferencing much clearer for both you and the person on the other side. Our partitions come in many colors, and provide a great background for video meetings (including green screen fabric to choose your own background!). These partitions can also be easily folded and put away when not in use.
We can also ship these out to you! Contact us below for more info.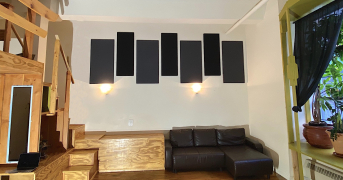 Custom Size and Color Wall Panels
Our acoustic wall panels will reduce echo and improve the acoustics in your room. They come in a variety of custom sizes, shapes and colors, so they can either blend in or add a splash of color or an artistic design to your home office. acoustic panels can add a spash of color and improve the acoustics in your room! We can also print any image onto a panel so your acoustic treatment can take the form of the artwork or photographs of your choice.
We can also ship these out to you! Contact us below for more info.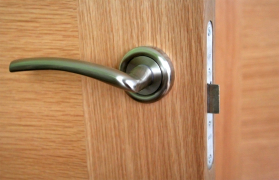 Noise-Reducing Door Treatment
Sound often leaks out of a room through the tiny openings between the door and the door frame. Our noise-reducing door treatment can help you keep the content of your meetings inside your office. If many people are working from home, treating each door can greatly reduce the ammount of noise traveling through your home and provide you with a calmer working environment for all.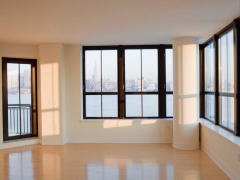 Noise-Reducing Window Treatment
In one of the world's largest cities, outside noise can be bothersome at all hours of the day and night. Acoustic treatment can be added to existing windows to reduce sound coming in from outside.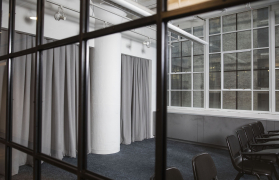 Sound-Absorbing Curtains
Sound-absorbing curtains are a great way to divide a large space and absorb sound. Install them in a large room to make two sections, and reduce the sound leakage between. Or, use these outside of an office door to increase visual and acoustic privacy.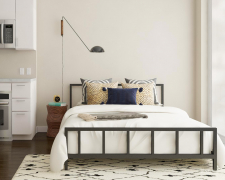 Noise Leakage Projects
Do you have noisy neighbors? Is the sound from machinery in your apartment getting in the way of your work? We can help you assess noise leakage projects of any kind, from soundproofing a wall to installing a "floating ceiling", to a room within a room. Every space is a little bit different, so noise leakage project is unique. Give us a call today to have your project assessed by our experts.